Advance, WD-40 Joins TechForce to Offer 40 Skilled Professions Scholarships
by Dave Lachance
employment
Ads

In support of a new generation of crash repairmen and other commercial professionals, WD-40 will donate $25,000 to the TechForce Foundation to fund 40 educational grants through a partnership with Advance Auto Parts.
TechForce said scholarship recipients will also receive additional resources and career development opportunities through the campaign called RevUp.
Jennifer Maher, CEO of TechForce, said the scholarship program will help address an "appalling" labor shortage in skilled occupations in the United States.
"The scholarship program creates a powerful opportunity to allow men and women to pursue a stable and rewarding career in the professions that have built our societies for centuries, while reducing the financial burden," Maher said in a statement.
According to TechForce's 2021 Transportation Technician Supply and Demand Report, the transportation technician shortage continues to worsen. While demand for technicians nearly doubled in the past year — from 13,6503 in 2020 to 258,000 in 2021 — it has not kept pace with supply. In 2021, there were five job openings for each graduate school of technology; In 2020, the ratio was 3:1.
TThe report found that nearly 100,000 new crash technicians will be needed between 2021 and 2025, as the baby-boom generation retires and demand outweighs the declining supply of post-secondary crash technician entrants.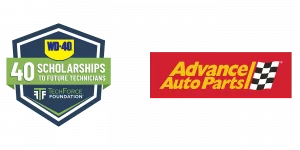 As part of the partnership, from December 30 through February 16, Advance will offer the WD-40 multi-use product at a reduced price, and it is expected that revenue from the promotion will help support scholarships.
Advance will help advance the profession by building awareness and engagement with their 4,700+ stores across the country, using POP displays, banners, and other methods. Advance will also promote the campaign through its social channels.
"We all hope this will be hugely successful so that we can support more students with campaigns like this in the future," said Mike Persendo, Chief Marketing and Strategy Officer at the TechForce Foundation.
Charles Sanville, better known as "The Humble Mechanic," joined the scholarship effort, who met A A $2,500 grant from WD-40 to create a $5,000 scholarship as part of the RevUp Campaign.
Collision repair students are eligible for TechForce Foundation support. The Foundation works closely with the Collision Repair Education Foundation (CREF) to reach these students in high school and post-secondary programs.
Want to help support RevUp and its mission? Among the options, Prisendo said:
Go to https://techforce.org/RevUp and donate to support more scholarships, or if you know someone who might be curious if a career in collision repair is a good fit for them, they can explore a mainstream learning style to see if it seems like a good path for them.
Join the TechForce https://jointechforce.org/ network filled with thousands of students and working technologies. Technology can communicate and explore career advancement opportunities. Those who wish to give back can sign up to be mentors or host students/internships in their stores. Prospective tech (students) can apply for support and participate in free events, competitions, training and career exploration.
Go to your local Advance Auto Parts store and get your discount on WD-40 starting Thursday, December 30th.
Spread the word about how TechForce is here to help https://techforce.org/
Both Advance and WD-40 are longtime financial backers of TechForce.
more information
About the scholarship program
https://TechForce.org/RevUp
TechForce technician supply and demand report
https://techforce.org/techforce-releases-the-2021-technician-supply-demand-report/
Pictures
Featured image: Jennifer Maher, CEO, TechForce Foundation. (Provided by TechForce)
Share this:
Related