This article is part six of a nine-part series that focuses on climate change. More specifically, this series will go in-depth on the human disconnect of accepting the reality of climate change, the role of the media, the power of student voices in environmental movements, climate science and the pressure for the University of Denver to divest from fossil fuels.
Students have notably pushed administrations to divest from South Africa's apartheid, raise awareness of sexual and gender-based violence on campus, divest from fossil fuels and many more important movements. Three student environmental from the University of Michigan (UM) and Whitman College have a few words of wisdom for student at the University of Denver in the battle of fossil fuel divestment.
These students are constantly stressing to not get discouraged. In Whitman's case, the student mentioned were there for all four years and focused their efforts to get the university to divest which eventually happened at the end of their senior year. At times, when the board denied their request they would feel down on themselves, but their advice is to not get down on yourself.
"Try to be as much of a nuisance as possible. This is a school that is supposed to represent your values. Your money is going into the school, and if it is not representing the things that students hold dear. Especially the endowment, which is not a neutral chunk of money, that is something that belies what the college cares about. The students are the central tenet of the college. You have to make sure the students are being heard," Caroline Arya, a former member of Divest Whitman, said.
Climate Action Movement (CAM) is a student activist organization that got the University of Michigan to partially divest from fossil fuels. As a part of this lengthy and tiring process, CAM demanded the board to create an endowment oversight ethics committee, which they declined. This committee would have focused on researching every investment that UM's financial advisor brought to the Board of Regents. Since UM is a public university, all of these investment opportunities are available to the public.
"We did both inside and outside work. A lot of what we believe in is that the system is inherently broken. We know that we cannot completely fix the system, but we do recognize that we do have to work within it sometimes. We had a meeting with the regents and slowly started converting them to think like we were. The combination of building certain relationships with those who have power, and also understanding that you can't always make those relationships," Leah Webber, a member of CAM at UM, said.
Activists' work is not done after a university has divested. For UM's case, the university came out with a lengthy and confusing statement saying they would disinvest from fossil fuel. This left a few blurred lines, so CAM continued to research and inform the student body to the best of its ability.
"Immediately after divestment, CAM was writing a lot of press releases and trying to help people understand exactly what happened. Everyone was very confused by what the divestment announcement meant. We were contacting different media contacts to spread information about it. We wanted to get our side of the information out there first because they did divest but it was far from a perfect form of divestment," Webber said.
Divest Whitman first demanded the university to divest from coal, which they believe was a stepping stone, since coal is not a smart industry to invest in today. Another piece of advice from the students is to work with other student organizations and hear the voices of those directly impacted by climate change. This helps the campaign emphasize how climate change is an intersectional issue.
"Prior to my senior year, I was naive and came at it from a liberal white environmentalist perspective. We started to reach out to other groups and realized the power we had united. I think a huge part of us being able to divest was us partnering with other groups," Genean Wrisley, a former member of Divest Whitman, said. "We all came together and stood in solidarity with each other over all of the different asks of each organization, and I think this was terrifying to the university and Board of Trustees."
Both Whitman and UM divestment organizations stood in solidarity with marginalized groups and student groups. The fossil fuel industry has harmed Native communities. Nationally, Indigenous peoples have protested against the energy exploitation on Native lands. These notable fights over fossil fuels and land have taken place at Standing Rock, Keystone XL pipeline, the Dakota Access pipeline and more. Native American reservations represent 2% of America's land, but hold 20% of the country's fossil fuel coal, oil and gas reserves.
"The reason CAM succeeded, we believe, was largely due to other student organizations fighting with us, and we supported them in their fights as well," Webber said. "Like the people from Whitman said, the combination of groups entirely different from each other fighting together, signing petitions and forming coalitions together made the administration afraid, and it was this power that led to the beginning of divestment."
The students emphasized the power of community organization, and how important it is to partner with other organizations to increase their voice. Webber also stressed the importance of mentorship and working together to pass down the knowledge on divestment and community organization to each grade year.
"You have more power united than you do on your own. If you all come together and start working on these issues and demanding change, you will have a lot more sway," Wrisley said.
Student activists at Whitman remained friends after graduation. All of the talked about how working together on this major issue brought them close. There has to be a layer of trust and friendship within the campaign to truly make a powerful impact on a large institution, in this case, a university.
"The community we created around divestment is incredible. The way that you attract people and get people to keep showing up is by caring for each other and creating a community that people want to be a part of and measuring success in different ways," Wrisley said.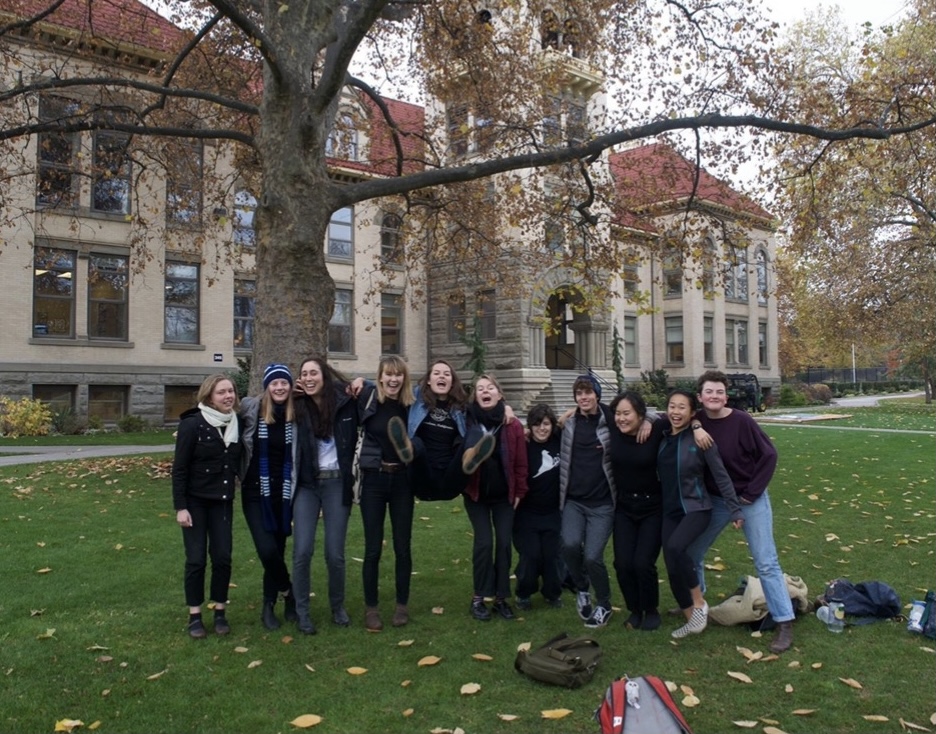 These students stood up against large institutions. This act can be intimidating, and at times, defeating. These celebrated through the small wins of getting to at least one board member, having students join the movement, getting the university to divest from one form of fossil fuels and more.
"When you are going up against a big institution, any win is something you should celebrate, and celebrate with the caveat that it is a small win, but you have to be proud of yourself for the little steps. We did celebrate the win we had, but we did recognize that it was not a full divestment, but it was not unexpected," Webber said.
These student climate' voices are powerful. They evoked change within university, and have taken away valuable lessons on community organization, team their potential and communication skills with university elites and the student body.