The Chain of Office and Medallion
The Chain of Office and Medallion is worn by MICA's president during Commencement. The Medallion, designed by Karen Klinedinst '85, includes symbols that represent MICA's endurance since its founding in 1826. It is paired with the Chain, designed by Betty Cooke '46, where each link features the name of the College's official and acting presidents, symbolically connecting MICA's founder to its current leader.
Academic Regalia
Modern academic regalia evolved from apparel worn by monks and students in the Middle Ages. The gown is symbolic of democracy in scholarship, and the hood is lined with the official colors of the institution conferring the degree and bound with velvet of the color appropriate for the highest degree achieved. MICA's colors are brown and gold for the MFA, white and gold for the MA, and blue and gold for the MA in Art Education.
Our Velvet Beret
A graduation cap is a sign of the freedom of scholarship which endows the wearer with responsibility and dignity. Rather than mortarboards, a black velvet beret has been traditionally worn as the cap by graduating students at MICA since the 1960s.
Honor Cords
Academic Honor Cords are worn by students who are awarded Cum Laude (green), Magna Cum Laude (red), and Summa Cume Laude (gold). The Art Education Honor Cord (light blue) is worn by undergraduate students accepted into the five-year BFA/MAT program. Leadership Honor Cords (bright blue) are worn by students recognized for outstanding leadership and contributions to the MICA community. Military Service Honor Cords (dark blue and gold) are worn by current members and veterans of the United States military.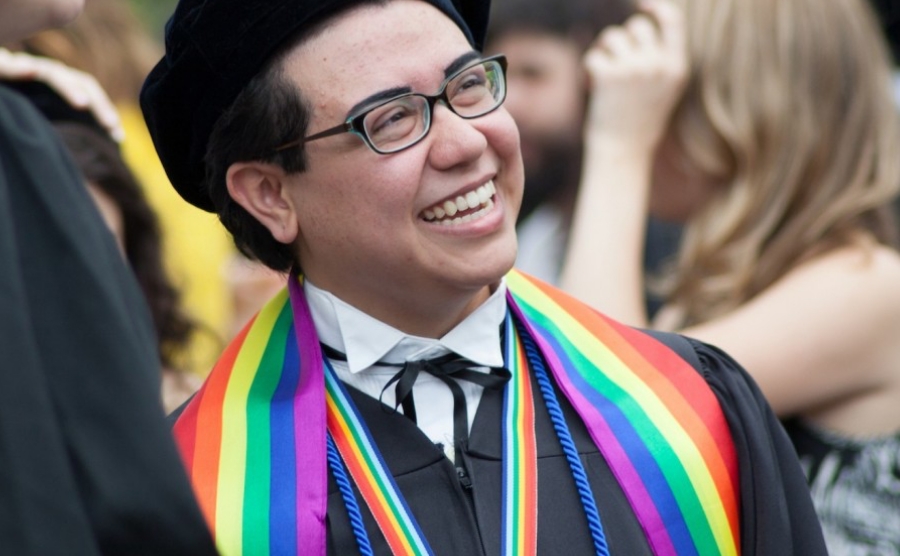 Leadership in Diversity Stoles and Cords
Leadership in Diversity Stoles and Cords are worn by students recognized for leadership, academic achievement, and involvement in advancing the Center for Identity and Inclusion's mission and vision. The stoles are red which represents power, energy, creation, passion, and love. The Adinkra Ghanaian symbol shows two conjoined crocodiles, which symbolizes democracy and cooperation and means Unity in Diversity. Other stoles include Asian Silk Stoles (silk bamboo print), Faith-based Stoles (Jewish stoles are blue and white, Christian stoles are teal), Heritage Stoles (red, green, and yellow), Hispanic Stoles (white, red, and blue ), Kente Stoles from Africa (green, gold, and maroon), and LGBTQIA Stoles (rainbow colors with an inverted pink triangle).
International Honor Cards
The color white is associated with illumination and understanding; the cord signifies the value of the global viewpoints and life experiences international students bring to MICA.