Two three-woman squads from Liberty University's Liberty Belles flight team flew Cessna Skyhawk 172SPs out of Lynchburg, Va., Friday morning to join the field of 53 teams arriving in Lakeland, Fla., the starting point of the 45th Air Race Classic (ARC ), the annual women's cross-country airplane race.
This will mark the 10th time that members of Liberty's team, made up of current School of Aeronautics (SOA) students and instructor flights, have participated in the historic race.
A total of 115 women pilots, co-pilots, and navigators from across the United States and around the world will chart their respective routes for the four-day, 2,549-mile race with a total of nine fly-bys and stops. Starting on Tuesday, they will journey through 12 states, arriving at the race's terminus in Terre Haute, Ind., on Friday.
The Liberty Belles I plane features rising senior Olivia Smith as the pilot, Chloe Cady as co-pilot, and Gracie Johnson as their teammate. Cady is the only member of either squad with previous ARC experience, having flown in 2019.
"I'm kind of going into it with an open mind, because I haven't done it before," said Smith, a senior from North Carolina who plans to complete her BS in Aeronautics: Commercial/Corporate in December. "I am excited about the different states we'll be flying through, because I haven't flown through any of them before except Tennessee."
Lindsay Steinmaus, a senior pursuing her BS in Aeronautics: Global Studies, which is geared toward missionary aviation, will be behind the controls of the Liberty Belles II aircraft, with Emma Hazel serving as co-pilot and Savannah Hughes as a teammate.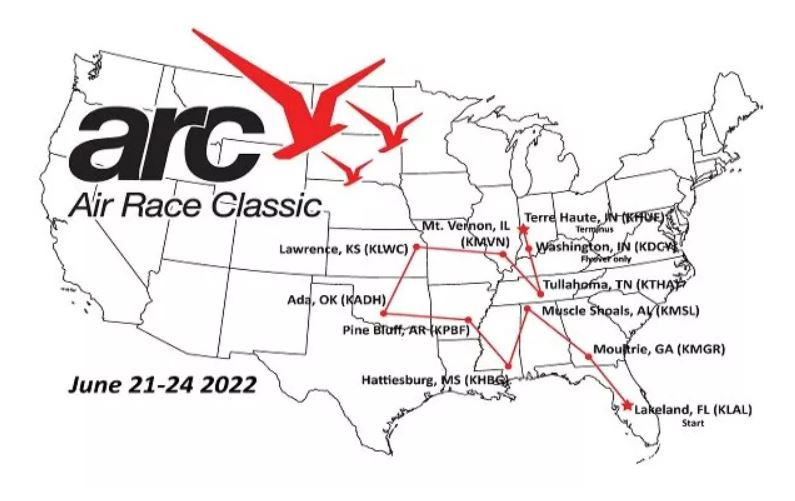 SOA Instructor Course Chief Megan Bradshaw, a former ARC competitor who is in her third season as the Liberty Belles' Head Coach, will oversee both teams' odysseys, meeting them in Florida and again in Indiana for the final banquet. Operating remotely from Lynchburg during the race, Bradshaw will remain in communication with the teams' navigators to help them monitor the weather and make wise decisions prior to takeoff and in flight, as well as helping to book hotels.
Steinmaus said the ARC experience will be invaluable in preparing her to become a certified flight instructor (CFI) this summer and as a pilot on future missionary travels.
"In the flight training environment, you don't really go on super long trips," she said. "This will be an opportunity to go to airports we've never flown into, preparing us for almost any job we're going to have."
She has learned through her flight training to plan meticulously, but also to expect the unexpected.
"I'm anticipating not really knowing what to anticipate," Steinmaus said. "You train for the real world, but you don't really know what it's like until you go out into the real world. You can think of all the scenarios, but you get out there and things happen that you never would have dreamed of happening, and you're like, 'How do I deal with this?'"
The Liberty Belles I and II flight crews will be competing against one another, as well as the rest of the field that includes 18 collegiate teams. Team members range from college students to 94-year-old Marie Carastro, the oldest ARC competitor in the race's 93-year history.
The race is open to single-engine, fixed-wing aircraft ranging from 145 to 570 horsepower (hp), with a handicap system leveling the field. The first plane to land in Terre Haute is not necessarily the winner as total flight time is the determining factor.
"Before we actually start the race, we do a handicap flight where we go up to an altitude of 6,000 feet and fly North and West and South and East for three-minute legs," Steinmaus said. "You take the average of the ground-speed readouts, recorded every 30 seconds, to get your handicap speed. This is the speed we're trying to beat, so we are pretty much racing ourselves. Whoever beats their handicap speed by the most is the team that wins."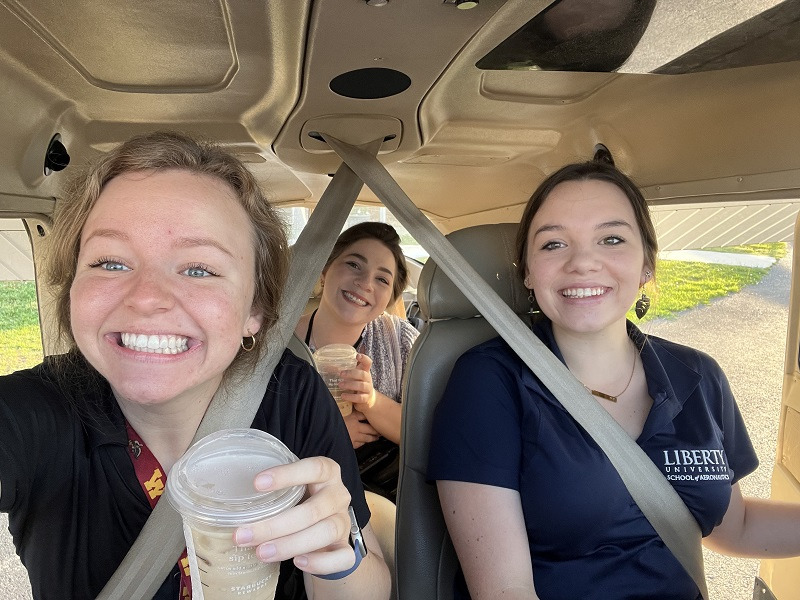 Steinmaus, who is from California and has flown over the Sierra Nevada Mountains, said next week's route traverses a relatively flat area of ​​the United States.
"There is not too much flying in high-terrain areas," she said. "The highest airport, (Tullahoma Regional Airport) on the western side of Tennessee, is at like 400 feet."
Making certain that the plane has enough fuel to get to the next destination and figuring out the fastest route to fly from one airport to the next will be two of the greatest challenges. Teams can take advantage of favorable winds and weather conditions to fly multiple stages on one day and fewer the next, but must land at their day's destination by sunset each night.
"Typically, you try to go to the best altitudes with the best winds, but for this race, we'll be staying within 3,000 feet of the ground because it takes so long to get to higher elevations and it's not worth it in the end ," Steinmaus said. "We will try to take the most direct route possible."
She said weather can often throw a wrench into flight plans.
"This year for sure, being in the Midwest, weather's going to be a huge factor," Steinmaus said. "Unfortunately, weather is unpredictable. Flying into a headwind is going to tank our ground speed, but chasing a tailwind is not necessarily worth it."
In planning their routes, the two crews refer to color-coordinated Visual Flight Rules (VFR) sectional charts, also available on their iPads, which provide general information on any terrain features, obstacles, and visual landmarks that aid in navigation.
"(ARC organizers) pick the routes pretty specifically, and each route has its own unique challenges, flying through different airspace to airports we have never been to before," Steinmaus said, noting that only two airports on the ARC flight itinerary will have air traffic controllers on site. "The VFR takes each airport and gives you all the info you need to know about them — runways, operating hours, specific obstacles, and radio frequencies. We can also use satellite images, which are really helpful to see what it looks like in real life."
Whether they are in the air or on the ground, the Liberty Belles will strive to conduct themselves professionally and make the most of opportunities for fellowship and to shine God's light on the other female aviators, as ambassadors for both Liberty and the Lord.
"It would be really nice to represent Liberty at the Air Race Classic and to bring that back into the school's aeronautics program," Smith said. "Even if it is a race, we can always continue to show His lovingkindness and be the best examples of Christ that we can be."