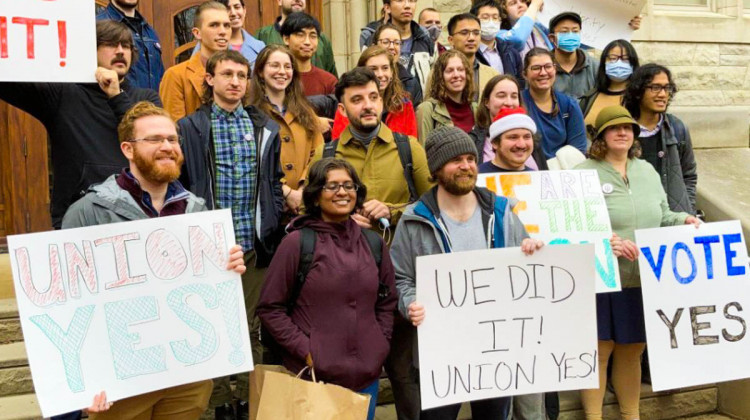 Indiana University officially denied a request by about 1,600 graduate workers to hold a union election, claiming that they were primarily students, not employees.
In December, graduate students working on the Bloomington campus asked the university to oversee a formal union election. They said after unsuccessful talks with management, union formation appears to be the clearest path to negotiation for ending student fees for workers and improving wages and benefits.
But in a response to the Graduate Workers' Coalition of Indiana on Tuesday, the university said collective bargaining would not be "constructive" for their cause.
---
Join the conversation and subscribe to Indiana Two-Way. Text "Indiana" to 73224. Your comments and questions in response to our weekly text help us find the answers you need on statewide issues.
---
IU policy currently recognizes some employee unions, but said that alumni are not employees, but "student academic recruits" instead. Under this classification, he said, they are able to give graduate students more benefits than part-time employees.
Cole Nelson, of the Alliance, said they weren't surprised by the rejection, but they were disappointed. He said graduates would continue the unions' efforts — and a refusal might only strengthen them.
"The rejection from the university and the outright rejection of the alumni's living experiences, I think it pisses off a lot of people," Nelson said.
Under Indiana law, public employees can form unions, but they cannot strike and employers are not required to identify them.
Clarification: An earlier version of this story referred to alumni as "academic appointees." For clarity, we have changed that to Academic Student Designation to more accurately align with the university designation.
Connect with journalist Justin at jhicks@wvpe.org or follow him on Twitter at Tweet embed.