The student virtually meets with a representative from the NBA.
On Wednesday, November 17, nearly 200 students enthusiastically participated in the Career Center's annual media, sports, marketing and outreach event, returning to the South Orange campus in Bethany Hall. Professionals from various industries were excited to participate in and contribute to the professional development of SHU student leaders.
With last year's historic pandemic and head-to-head restrictions, The Career Center quickly adapted event delivery to a virtual format. As a result, The Career Center has embraced the opportunity to develop a hybrid event venue for the annual media, sports and marketing networking event, providing greater access to students and representatives for face-to-face and physical networking. For industry professionals who were unable to attend in person, this hybrid format introduced a virtual department reserved for up to 10 additional employers to participate. The representatives log on to the virtual platform of their choice to meet with the students. The flexibility of this hybrid event honed students' virtual networking skills.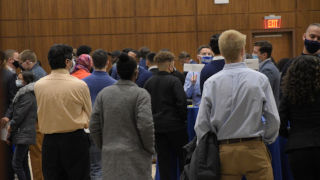 2021 Media, Sports and Marketing Networks Exhibition.
Feedback from the Career Center's first hybrid event has been overwhelmingly positive. The students expressed their gratitude and appreciation for the career advice provided by industry professionals and the opportunity to connect with alumni who recently graduated from the hall (please click here to view student testimonials). One of these alumni, Mr. Justin Mathis, Senior Director of Media Distribution and Strategy for the National Hockey League (NHL), wrote, "Jorge, really enjoyed last night… none of them [students] They were really asking about jobs, they were very interested in what I do and how I got there, and they asked what advice I have for them to start working in this industry. My appreciation goes to you and the team at SHU because that's how these kinds of conversations are supposed to happen. I can't wait for next year."
The Career Center team is excited about the events for the Spring 2022 semester and invites all students to:
Make an in-person or virtual appointment with a member of The Career Center -> click Compass (via PirateNet) or call (973) 761-9355;
Visit The Career Center website to explore career services and upcoming events offered; Learn about training and job hunting on Handshake.