Apr 08, 2022
Winners announced for video, photography and writing competition
Dozens of students and advisers from 10 area high schools attended the Jandoli School of Communication's 2022 Communications Day at St. Bonaventure University Friday, April 8.
This was the first in-person CommDay since October 2019 due to the COVID-19 pandemic. Last year, the Jandoli School held a virtual CommDay.
"I am so happy we were able to welcome these wonderful high school students and their teachers back to the St. Bonaventure campus," said Aaron Chimbel, dean of the Jandoli School. "CommDay is always one of my favorite days of the year and it is invigorating to have so many young people interested in journalism, communication and media visit and learn from our great faculty and alumni."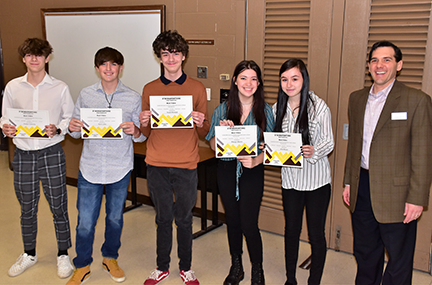 CommDay, originally called Press Day, has a long history at St. Bonaventure dating back to 1936. Since 1987, it has been known as Communications Day.
Mike Vaccaro, '89, the lead sports columnist at the New York Post, presented the keynote address.This year, students participated in workshops on writing, design, photojournalism, advertising, media ethics, local news, video production, sports writing, sports broadcasting and a special live broadcast journalism experience with SBU-TV, the student news station.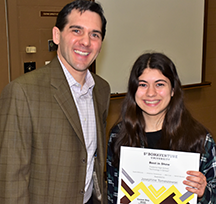 Students had the opportunity to submit their best work for the CommDay competition in video, photography and writing categories.
Dean Chimbel announced the following winners, who will be granted scholarships if they attend St. Bonaventure. The scholarships will be continued each year up to four years for students who are major in one of the Jandoli School undergrad programs.
Recipients are:
Best Photography
$500 Scholarship for students attending St. Bonaventure
CA BOCES Career and Technical Education Center at Olean
"21st Century Issues"
• Jaden Stabb
• Gracie Hasselberg
• Kelsey Shea
• Searia Babb
Best Video
$500 Scholarship for students attending St. Bonaventure
CA BOCES Career and Technical Education Center at Olean
"Knowing You"
• Noah Randall
• Rileigh Martin
• Kent Little
• Kadyn Cassidy
• Allie Boser
Best Writing
$500 Scholarship for students attending St. Bonaventure
Brockton High School
"Miller's makes Brockton its Hometown"
• Joshua Bigelow
Best in Show
$1,000 Scholarship for students attending St. Bonaventure
Fredonia High School "Technology in School"
• Sophia Botticello
• Josephine Tomaszewski
• Allie Cook
• Kiarrah Monsour
_____
About the University: The nation's first Franciscan university, St. Bonaventure University is a community committed to transforming the lives of our students inside and outside the classroom, inspiring in them a lifelong commitment to service and citizenship. st. Bonaventure was named the #5 regional university value in the North in US News and World Report's 2022 college rankings edition.
-30-
.