Two Wabash College students have been awarded the Benjamin A. Gilman International Scholarship to study abroad.
Samuel Proctor '23 and Ryan Sowers '23 have been awarded scholarships to study in Athens, Greece, and Osaka, Japan, respectively, for their international experiences. Twenty-two Wabash students have now received Gilman Scholarships since 2016
"I am very pleased for Ryan and Sam," said Susan Albrecht, fellowship advisor at Wabash College. "They are very deserving of the Gilman Scholarship. The pandemic has made it difficult to plan for study abroad, and it is tempting to give up on the process, including applying for a major fellowship. It is great that so many Wabash men have remained so flexible and flexible about their expertise. study abroad and worked hard to apply for the fellowship."
Majoring in Psychology with minors in Classics and Philosophy, Proctor works as a peer career counselor at the Schroeder Center for Career Development, is a member of the rugby team, and played football for a year with the Little Giants in 2019.
It will be Proctor's first overseas trip.
I decided to apply after hearing about the scholarship through the Wabash faculty. "It feels great to be chosen," said Proctor, who is a Lebanese citizen of Indiana. "Because of COVID there are still a lot of challenges ahead. This experience will open my mind with learning opportunities. I hope to understand the world better outside the country I live in."
Sawers, a humanities major with a minor in economics, has served as a consultant at the Wabash Writing Center and has worked with staff at BSC, the school newspaper, and worked as a Japanese teacher.
"If I receive the Gilman program means I will be able to study abroad in Japan, taking intensive language courses, for a longer period of time as long as the borders open back up," said Sawers, a native of Ladoga, Indiana. "What I am most looking forward to in this opportunity is to enhance my language skills to a level that I can benefit from in a professional context."
Previously, Sowers won a Freeman-ASIA Scholarship to study at Nanzan University in Japan last year.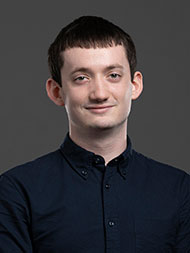 Administered by the Institute of International Education, the purpose of the Gilman International Scholarship Program is to encourage participation in study abroad programs for underrepresented students, particularly those studying in underrepresented regions of the world and/or underrepresented languages.
The Institute of International Education seeks to support a group of American students studying abroad that reflects the true diversity of the nation. Scholarship recipients have the opportunity to gain a better understanding of other cultures, countries, languages ​​and economies, thus making them better prepared to take on leadership roles within government and the private sector.
Over the past nine years, Wabash men have earned 72 international fellowships. The list includes a Rhodes scholar, 26 Fulbright fellows, 22 Gilman fellows, 11 USTA fellows, seven North American Language and Culture Aids in Spain, and three TAPIF (France) English Teaching Assistants, and a Freeman-ASIA Scholarship, and one JET recipient.